Milliyet September 2016
Jewelry with a story
Lucky Culture is a brand that sets out to create designs that have meaning, feeling and a story rather than making classical jewelry.
Elif İpek Türer-ipek.turer@milliyet.com.tr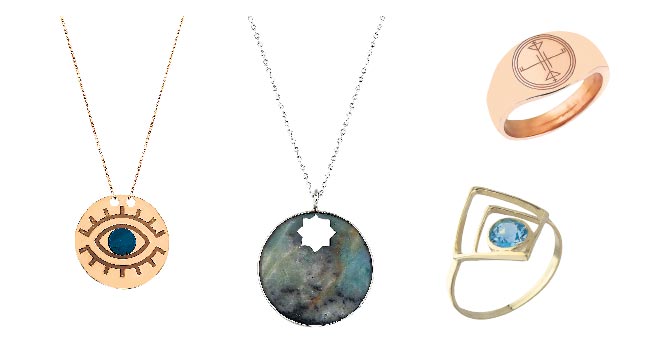 Especially if you are a serial watcher, there is a brand that you come across, consciously or unconsciously, for the last four or five months: Lucky Culture. Founded by Yonca Akbayrak in 2013, the brand has been actively producing for 1.5 years after Beste Cesur joined Akbayrak.
They attribute the reason why they were noticed quickly in this relatively short period of time, because they tried to create a piece of jewelry with a story, feeling and meaning instead of a classic piece of jewelry. For example, they make jewelry from the mandala, which symbolizes the unity of the soul and body, the torus symbol, which gives high energy, and the symbol of the word "tengri", which means the sky god and balance. They use cranes, the fertility gods of ancient Anatolian civilizations, ears. They are fed by Sultanahmet culture, old carpet motifs, antique jewelry, Byzantine, Urartian, Seljuk, sacred geometry.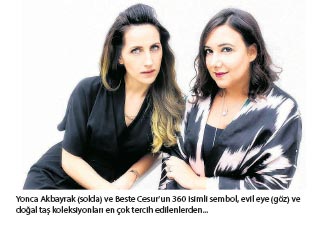 60 percent handmade
They use synthetic and non-dyed natural stones; Iranian Nishapur turquoise, herkimer apple, blue topaz, garnet, amethyst, crystal quartz... 90 percent of its products are silver and rose gold plated on silver. It should be noted that although there are mass-produced products, approximately 60 percent of them are handmade and unique. They also have a small gold collection, and they want to expand it. He also has new plans. For example, making a collection about zodiac signs, expanding men's collections, creating a collection that combines traditional Turkish jewelry with the modern...
Although they call their style bohemian, they do not want to restrict it too much. They say that they don't just like to do very flashy things, they try to make pieces that are more daily, simple, that everyone can use all day long and feel special. Bracelets, necklaces, rings, şahmeran, anklets, collar necklaces, brooches are among the jewelry options of the brand. In the meantime, let's say that they have started their overseas sales; they are currently selling in Switzerland, Amsterdam and London.
The prices are also suitable for any budget. They have products ranging from 60 lira to 560 lira. But they also state that those with 560 liras are now very special pieces, and their average price is between 100-200 liras.
Shows have a big impact
Since June, the brand's jewelry has also been used in TV series. The series had a great impact on reaching a different and wider audience. They are getting very good feedback from the fans. Especially the influence of Hande Erçel, Burcu Biricik, Hazar Ergüçlü and Burcu Özberk was incredible. Another positive factor is that bloggers share their products on their pages.